Today's Wordle Answer, Hint, Clue, Archive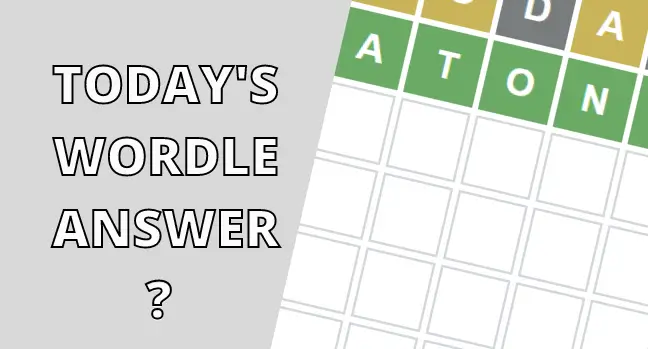 Wordle, a word game launched by former Reddit engineer Josh Wardle in 2021 is a word puzzle game in which a player must guess the correct word in just six attempts.
Now, The game 'Wordle' is owned by one of the famous websites New York Times.
Every day, Wordle releases a new five-letter word and participants have to guess the correct word without any hints in the given six attempts.
Participants who guess the correct word successfully got awarded with a Wordle score which they used to share on their social media profiles.
Here on this page, we will update Wordle's daily answer, hint and clue.
What is Today's Wordle Answer
Now, it's time to guess Wordle today answer.
→
Wordle 365 Answer and Hints Today, Sunday, 19th June 2022
Hints
⚫ The word is a noun. Its meaning is "a person or thing that loses or has lost something, especially a game or contest".

⚫ The word has two vowels, at positions 2nd and 4th.

⚫ There are no duplicate letters.
Wordle Answer
LOSER
Wordle Answer Archive
→
Wordle 364 Answer and Hints Today, Saturday, 18th June 2022
Hints
⚫ The word comes from the Spanish language. Its meaning is "seeds from a small tropical American evergreen tree, from which cocoa, cocoa butter, and chocolate are made.".

⚫ The word has three vowels, at position 2nd,4th and 5th.

⚫ The consonants are the same letter repeated twice
Wordle Answer
CACAO
→
Wordle 363 Answer and Hints Today, Friday, 17th June 2022
Hints
⚫ The word is a adjective. Its meaning is "denoting a type of glassware made by forcing air through molten glass," or "(of a fuse or electric circuit) burned out as a result of overloading".

⚫ The word has only one vowel, at middle position.

⚫ There are no duplicate letters.
Wordle Answer
BLOWN
→
Wordle 361 Answer and Hints Today, Wednesday, 15th June 2022
Hints
⚫ The word is a noun. Its meaning is 'the leading or upper part in a duet'.
⚫ The word has 2 vowels, at position 3rd and 5th.
⚫ The word 'APPRO' is suitable to try as starting word.
Wordle Answer
PRIMO
→
Wordle 360 Answer and Hints Today, Tuesday, 14th June 2022
Hints
⚫ It is a verb. Its meaning is 'to show that you are sorry for doing something wrong'.
⚫ The word contains 3 vowels in it. And, starts with 'A'.
⚫ Avoid letters such as 'X','Z' and 'Q' until later on, when you have a better idea what the answer is.

Wordle Answer
ATONE