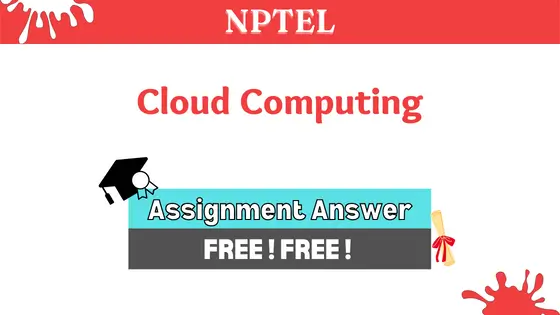 Are you looking for the probable answers to the NPTEL's cloud computing week 2 assignment?
This article is designed for your help because it contains the probable answers to the assignment sequentially. Also, I am trying to provide you with all assignment answers up to week 12.
Good Luck!
NPTEL Cloud Computing Assignment 2 Answers
Q1. Example(s) of Public cloud is(are)
Answer: D. Amazon EC2
1000+ subscribers getting help from instant notifications, Join us on telegram.
---
Q2. Which of the following is/are XML parser API(s)?
Answer: B. SAX (Simple API to XML) & D. DOM (Document Object Model)
---
Q3. The public cloud provides total visibility and control over data regarding security.
Answer: B. False
---
Q4. In the case of on-site private cloud, organizations consider (i) network dependency; (ii) no risk from multi-tenancy.
Answer: A. Only (i)
---
Q5. __ is an XML language for processing XML.
Answer: D. XSLT
---
Q6. Cloud Manager is the public access point to the cloud where subscribers sign up for accounts.
Answer: A. True
---
Q7. _____ generally stores the cloud subscriber's metadata like user credentials and OS images.
Answer: C. DOS (Data Object storage)
---
Q8. Which of these is responsible for the operation of a collection of computers that are connected via high speed local area networks in the cloud computing paradigm?
Answer: C. Cluster Manager
---
Q9. Hypervisor is also known as
Answer: D. Virtual Machine Monitor
---
Q10. The following problems are addressed through Web services:
Answer: A. Firewall
B. Interoperability
---
---
Disclaimer: These answers are provided only for the purpose to help students to take references. This website does not claim any surety of 100% correct answers. So, this website urges you to complete your assignment yourself.
---
Also Available: