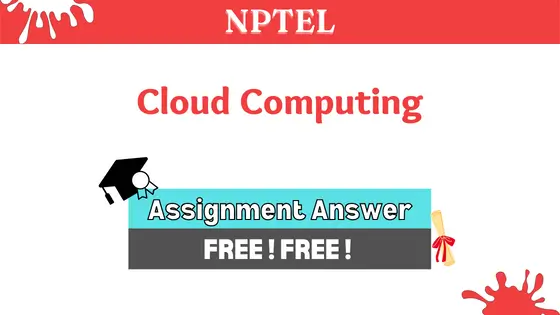 Are you having difficulties finding the answers to the NPTEL Cloud Computing Assignment 1?
We've put in the time and effort to solve all 10 multiple-choice questions of the assignment and have compiled the answers in this article for your convenience. Simply scroll through the article to find the solutions to your NPTEL Cloud Computing Assignment 1.
NPTEL Cloud Computing Assignment 1 Answers
Q1. A distributed system is preferred when the task is
i. Data-intensive
ii. Computing-intensive
a. Only (i)
b. Only (ii)
c. Both (i) and (ii)
d. Neither (i) nor (ii)
Answer: Option C
---
Q2. The "Grid" in the distributed grid computing paradigm links together power plants of different kinds.
a. True
b. False
Answer: Option B
---
Q3. Which one of the following is/are the advantage(s) of cloud computing?
a. Resource pooling
b. It requires an always-on internet connection.
c.Ubiquitous
d. On-demand payment policy
Answer: Option A, C and D
---
Q4. The distributed system ensures 'robustness' of performance.
Answer: A. True
---
Q5. What is (are) the characteristic(s) of using cluster computing?
Answer: A. Parallel programming
B. Faster network than a typical LAN
C. Low-latency communication protocols
---
Q6. Web access to commercial software is one of the SaaS (Software as a Service) characteristics in the cloud computing paradigm.
Answer: A. True
---
Q7. Example(s) of PaaS (Platform as a Service) tool(s) is (are):
Answer: B. Microsoft Azure
C. Google App Engine
---
Q8. IaaS (Infrastructure as a Service) in cloud computing delivers
(i) storage;
(ii) servers.
Answer: C. Both (i) and (ii)
---
Q9. IaaS (Infrastructure as a Service) is the best option where regulatory compliance makes the offshoring or outsourcing of data storage and processing difficult
Answer: B. False
---
Q10. What is/are the main requirement(s) of a Cloud Service Provider (CSP)?
Answer: A. Increase agility
C. Increase productivity
---
Disclaimer: These answers are provided only for the purpose to help students to take references. This website does not claim any surety of 100% correct answers. So, this website urges you to complete your assignment yourself.
---
ALSO CHECK :
Data Mining NPTEL week 1 assignment answers