As we know, how important is the mobile phone in today's life. During the lockdown period, it was an essential part of human life including students too. Whole industries including the education industry also were moved online. During that period, most of the work was done by mobile and laptop. But, the prices of smartphone and laptop was high so, it was not affordable for everyone(mostly for students who was dependent on their parents).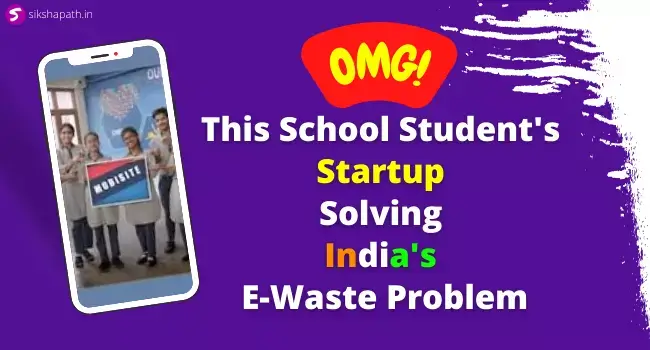 After observing this problem, one of the teams of school students had started researching for the solution to this problem and they got success in it. These students have named their team Mobisite.
Now, I am going to explain to you how school students create startup with old mobile phone junk.
---
What is Mobisite
Mobisite is a small startup started by school students in Delhi. Mobisite is providing people refurbished mobile phones at a low cost. In simple words, this startup is selling old mobile phones after repairing them. They are also buying old damaged phones from users.
They have started this startup for students who cannot buy expensive mobile phones for their online studies. Currently, it is not only the requirement of students but it is the requirement for most of the people who also want to learn new things online or start their online business.
They are also solving a big problem of E-Waste in India. And, it also helps to save money.
About Mobisite team and their Story
Mobisite team was led by Sukh Sagar(Team Leader) who also repair mobile phones. Saniya(Account Manager), Amrita Mishra(Promotion & Advertisement Manager), Ishika Negi(Marketing Manager) and some other members are representing this team.
During the initial phase, they convince their neighbours and friends to sell their old mobile junk to them.
When they realised that they didn't have enough money to buy instruments for repairing mobiles so, they had approached a local shop owner to use their instruments.
Startup Name

Mobisite

Founder

Sukh Sagar

Founded Date

2021

Funding

(Upto 2021)

INR 8000 (from Delhi Government's business blaster program)

INR 50,000 [from Nitin Saluja(Founder of Chaayos) and Seema Bansal(Partner and Director of Boston Consulting Group, India)]

Social Page

Instagram – Click Here
Mobisite old mobile phone selling requirements
Mobisite team have not discussed much more about this publically, but as they are students so they want old mobile phones which is not in the use of the user and they will pay a somewhat low amount for this.
If you want to sell that old mobile phone which is not in your use, you can message on the Mobisite team Instagram page. And, also ask them about requirements for selling phone.
Mobisite refurbished phones buying
You can buy refurbished mobile phones from available phones to Mobisite team by connecting them on their Instagram page and messaging them on Instagram.
Mobisite warranty on refurbished phones
Mobisite provides 6 months warranty on refurbished mobile phones which they have sold. But, they also provide a chance to extend their warranty period by paying some extra charge.
What is Mobisite Business Model
Now, again come to the startup viewpoint, so we will discuss the Mobisite business model.
Mobisite buys old mobile phones from users at a low cost and refurbish those mobile phones on their own, then sold them at a decent amount which includes their profit margin and repairing cost which they have spent on replacing parts of the mobile. 
In short, their revenue model is to buy the old phone, add value to that and sell that phone and keep profit margin.
Mobisite has made a profit of INR 11,500 in the initial months.
Mobisite Funding
Mobisite got their Seed Funding of INR 8000 at their Ideation Phase from Delhi Government's business blaster program. Mobisite raise their next combined funding of INR 50,000 from Nitin Saluja(Founder of Chaayos) and Seema Bansal(Partner and Director of Boston Consulting Group, India).
Mobisite Competitors in India
If we talk about competitors then it can be too much in numbers, but if we talk about any famous competitor then it is Cashify. Cashify is also buying old mobile phones and other appliances from users, adding value to them and selling them.
Mobisite Challenges
As Mobisite will grow in Indian Market, then they will have to face many big challenges, some of them are discussed below.
Tackle Big Mobile Manufacturer Companies:  Every manufacturing companies want to sell their new product to the customer rather than their customer reusing old product after repairing from other sources.
Delivery at long-distance places: In-time delivery at a low cost can be a big challenge for Mobisite.
Buying old phones at low cost: As most people want a fair amount for their old phones, then it will be tough work to convince them to sell their phones at a low cost.
Avoid buying phones from thieves: As we know, thieves want to sell stolen phones easily, so it will be a challenge for the Mobisite team to identify people who are selling phones are the genuine owner of that mobile phone or not.
Adding more value than competitors: As I discussed competitor of Mobisite earlier, Mobisite will have to add more value than their competitor startup. 
Why Mobisite Startup Story
Have you thought about why I am discussing this Mobisite Startup story here?
Actually, I want to tell you how you can start your own Startup by solving any small problem people facing around you. And, the second thing I want to make a realisation in you that you can start your own startup with a small amount of funds during your student life journey.
This is a student startup story example, but I shall come with a successful startup story journey explanation also.
If you got some learning from this startup story, then share it with your friends and family members to motivate us for writing this type of more story.
FAQs
Who is the owner of Mobisite?

Sukh Sagar – Founder of Mobisite.

Who are the competitors of Mobisite?

The top competitors of Mobisite are Cashify, Gazelle, usell.com and InstaCash.

Can we sell the non-working phone on Mobisite?

Mobisite buys old mobile phones which is not in the use of the user, but it will depend on them whether they will buy non-working phones or not.
Also Read