Today, I have enrolled in a Coursera certification course for free of cost. As I know the importance of skill-based learning in today's world because researchers have already clear that most skill-less jobs will be replaced by robots and artificial intelligence in upcoming years.
So, in this article, I am going to introduce you to the amazing 9 Coursera courses with certificates in which you can enroll without spending a single coin. If these starter words hit you hard about learning then, definitely check out the next part of the article.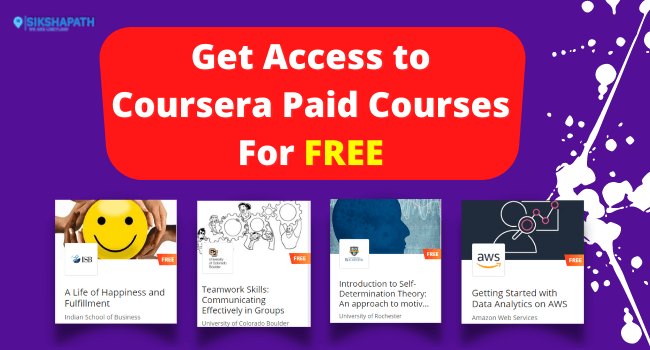 Why free Coursera courses with certificate
Before going to the main discussion I want to explain, why Coursera offers these nine courses for free? Actually, this year Coursera is celebrating the 10th anniversary of its foundation. Yes, Coursera has completed its 10 amazing years in the field of education. Now, Coursera is one of the world's biggest online course platforms. Its certificate has a specific value in the world.
Now, coming to the point which course will you get and how to enroll in these courses for free.
List of 9 Free Coursera Courses
1. Oracle Cloud Infrastructure Foundations
This course is for beginners who want to prepare for the Oracle Cloud Infrastructure Foundations Associate Certification. This oracle course begins with an introduction to the Oracle Cloud Infrastructure platform, and then teaches the core primitives, compute, storage, identity, networking, databases, security, and much more.
You will have to spend approximately 14 hours to complete this oracle certification course.
This course is designed to help you to gain the following skills:
Architecting
Autonomous Database Concepts
Networking
Observability and Management
2. Introduction to Self-Determination Theory: An approach to motivation, development, and wellness
In this course, you will learn basic psychological needs that promote high-quality motivation and wellness in your life. This course is mainly based on the theory of motivation and psychological development and how coaches, managers, and healthcare professionals use these to promote positivity in themselves.
This 21 hours course can save lots of hours which you will spend thinking about the negative side of the world.
3. Getting Started with Data Analytics on AWS
In this course, an AWS Expert will teach you about the fundamentals of Data Analytics which is a great opportunity for technology learners. The course starts with an overview of different types of data analytics techniques and then dives into the descriptive learning of data analytics.
In this one week course, you will learn to convert raw data to meaningful insights using AWS.
4. Introduction to Personal Branding
Do you know that personal branding can change your entire career? So, this course will help you to understand both what personal branding means and what it means to inhabit your brand.
Thanks, the University of Virginia for this valuable 4 weeks course which helps to establish yourself on at least three social media platforms and create a mission statement for the brand, also, creates a system for your ongoing brand maintenance.
5. Career Decisions: From Insight to Impact
Are you confused about deciding career? Then, this course from Wesleyan University can solve your all confusion because the instructor of this course is itself an adult developmental psychologist and a career counsellor trainer.
Through this course, she will teach you to understand best practices for making career decisions from an area of study to exploring potential lines of work to pursue.
After completing this 4-week course you can also help others in making the right career decisions for themselves.
6. A Life of Happiness and Fulfillment
Do you ever think about the habits of the Highly Happy People? So, this course is based on the award-winning class developed by Prof. Raj Raghunathan (aka "Dr. Happy-smarts") to offer a tested and practical recipe for leading a life of happiness and fulfilment.
You can enroll in this course to connect more to your happiness.
7. Teamwork Skills: Communicating Effectively in Groups
Do you know for your professional and personal success effective teamwork and group communication are essential? So, this course will make your concepts more strong in managing conflict and work with difficult group members, also, improving group communication in virtual environments, negotiating for preferred outcomes, developing a better overall understanding of human interaction, and working more effectively as a team.
8. Creative Problem Solving
Do you know your ability for creativity can open more opportunities for your career because it is a critical skill in any field? So, this course is designed to help you understand the role of creativity and innovation in your work.
It's the time to challenge yourself to move outside of your existing comfort zone and explore your creativity.
9. Sustainable Fashion Course
As we know how fashion industry growing day to day. But, do you know it is growing unsustainably from the last some decades due to a lack of knowledge about sustainable fashion models. So, this course covered the real-world practical concepts used by top fashion brands to create sustainable fashion.
If you are interested in creating a fashion brand, then definitely check out this course to make your brand sustainable and profit-making.
How to enroll in a free Coursera certification course
The first requirement to enroll in any of these certification courses, you must have a Coursera account. If you don't have then create a new one.
The second step is too easy because you have to directly check out the course page by clicking on the given anchor text below.
Now, in the final step, you need to enroll in any one of these courses from your Coursera account. If you want to enroll in several courses then, you need more Coursera accounts.
Conclusion
In this whole article, I have tried to explain the 9 free Coursera certification courses and how to get access to them. I hope you have read the whole article step by step and you will never miss this great opportunity to add some value to your career.
Thank You so much for reading the whole article!